Animal welfare
In addition to the goal of producing valuable and sustainable favourite pieces of the highest quality, animal welfare, respectful and species-appropriate treatment of the alpacas and the preservation of their natural habitat are absolute priorities for us. Through the close relationship with our partners and manufactures in Peru, we have been able to personally see how our products are made. In addition, we support the local farmers and communities.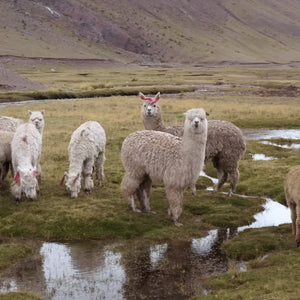 How it all began.
Learn more about our history and our corporate responsibility here.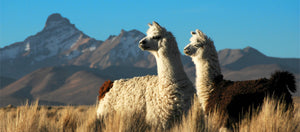 Zum Wohl der Tiere.
Alpacas are extraordinarily valuable animals. Their wool is an exquisite raw material and a noble gift from nature. A life expectancy of 15 to 20 years makes the shearing of the animals over their entire lifetime far more profitable for the alpaca farmers than the individual fur. No animal is harmed solely for the extraction of our materials; neither for the wool of the annual shearing, nor for the fur obtained as a by-product. In addition to the incredible softness, this is a unique selling point of our textiles. With our products you enjoy natural and sustainable luxury.
Zum Wohl der Bauern.
The condition that no animal is harmed solely for the manufacture of our products is paramount. However, our claim goes further: In a globalised world, in economically, politically and ecologically challenging times, it is important for a company to take responsibility and give back to society. We have not only set ourselves the goal of bringing traditional Peruvian craftsmanship to the world, but also to support local farmers and producers in leading a self-determined life. That is why we have supported local charitable projects since the beginning. We plan to expand this support even further in the future.