The alpaca factsheet
Warm, soft and precious. One of the rarest, most beautiful and valuable fibres in the world, alpaca is also known for its incomparable softness and special heat retention properties. Moreover, it is increasingly seen as a more sustainable alternative to the oversaturated cashmere market. Learn everything you need to know about the wonderful animals, their origin and their unique fur here.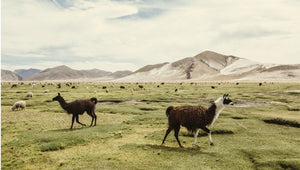 Die Herkunft.
The history of alpacas has a long, 6000-year-old tradition. The royal families of the Incas already domesticated the peaceful animals and revered them for their unique fur and the special features of the alpaca fibre.
Even today, alpacas are the sanctuary of Peru. With their wool, they secure the livelihood of many Peruvian farmers. Of around 4 million animals worldwide, about 90% live in the Peruvian Andes. Alpacas are usually kept in small herds of 80 to 100 animals, at altitudes of up to 5000 metres.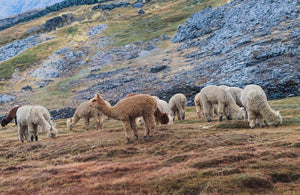 Die Eigenschaften.
Alpacas are sociable herd animals. They live between 15 and 20 years, their back height is about one metre and they can reach a weight of up to 60 kg.
There are two types of alpaca, the huacaya and the suri, which differ only in their coat structure. While the huacaya's hair is short, slightly curly and particularly densely arranged, the suri's coat is characterised by long, curly and silky hairs whose unique reflection of light creates a beautiful, natural sheen.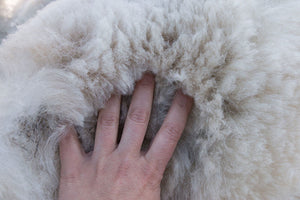 Die Faser.
Due to their natural habitat, alpacas are often exposed to extreme environmental conditions and high temperature fluctuations.
The sustainable fur of alpacas is optimally adapted to these circumstances: the hairs are particularly fine and closely arranged to provide sufficient protection against cold and extreme weather. At the same time, the fibre is hollow on the inside and has a heat-insulating effect due to its special thermal properties - a unique fibre property that protectsively regulates temperature differences of up to 25 degrees in a single day.
These properties make alpaca fibre one of the most sought-after raw materials worldwide. The alpaca fibre contains hardly any lanolin (wool grease) and is therefore dust, dirt and sweat repellent. Wool and fur are therefore also excellent for allergy sufferers, babies and even the most delicate skin.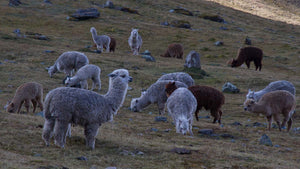 Die Qualität.
Our partners and producers in Peru are handpicked and specialise exclusively in alpaca fur and wool. This way we can ensure the highest quality level of our products. We only use Royal Alpaca for our alpaca fur products and Ultrafine Alpaca for our wool collections. The quality of alpaca fibres is traditionally measured by fibre thickness. The thinner the fibre, the finer the fur and the greater the wow effect when you touch it for the first time.

The quality level "Royal Alpaca" means that the fibre thickness is less than 20 microns. This corresponds to a tenderness similar to that of silk and cashmere. This high quality is reflected in the so-called "crimp", a slightly crimped fibre that becomes visible when the fur is blown on. Our Ultrafine Alpaca wool collections have a fibre thickness below 23 microns.

We regularly have the fibre quality of our products randomly tested in the independent laboratory of the Universidad Agraria La Molina in Lima. Certificates with a fibre thickness of only 15 microns are available.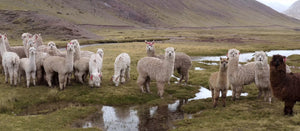 Die Pflege.
Alpaca products are easy and uncomplicated to care for. Due to the special texture and the natural robustness of the fur, alpaca products made of fur rarely need to be cleaned without fear of damage.

Um die einzigartigen Eigenschaften der Alpakafaser beizubehalten, empfehlen wir bei größeren Produkten ein gelegentliches Ausschütteln an der frischen Luft sowie gegebenenfalls ein sanftes Absaugen des Alpakafells. Bei kleineren Produkten reicht ein regelmäßiges Bürsten mit einer Fellbürste aus Draht, um den natürlichen Glanz zu erhalten. Dies gilt vor allem bei Produkten aus Suri-Fell. Bei groben Verschmutzungen wird eine professionelle Reinigung empfohlen.