Transparency
An integrative part of our company philosophy is a value chain that is as transparent and efficient as possible for all sides. Therefore, in the following we exclusively present the three core elements of our production chain. How could this be better explained than by the acting persons themselves, transparently and directly: the manufactory near Lima, the middleman who collectivises the raw materials from the farmers on the local markets in the highlands of the Andes and the alpaca farmer who lives the ultimate harmony of man, animal and nature far away from any civilisation.
Die Manufaktur.
The manufactories buy the raw materials of our products from the middlemen and process them into exquisite and high-quality end products. The skins are first selected according to size, soaked, cleaned and prepared for tanning. After tanning, the water used is collected by specialised companies and neutralised so that it cannot harm the environment. After tanning, the skins are washed again, dried and selected for dyeing. The skins selected for dyeing are tanned a second time and then selected for making up. This is where the cutting and finishing of our high-quality products takes place.
Der Zwischenhändler.
The middlemen who buy the raw materials for our products from the alpaca farmers specialise in trading the soft wool. They buy the products from the alpaca farmers in the Andes and then resell them in various places in Peru, such as Juliaca, Arequipa. From here, the high-quality raw materials are then processed into unique products in small manufactories. Occasionally, for example, when animals have died or been slaughtered for their meat, they also buy the fur to resell in the various markets in Peru. However, the trade of the qualitative wool remains the main business of the middlemen.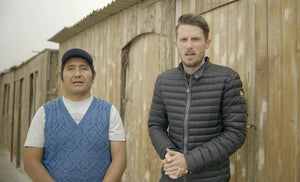 Der Alpakabauer.
Die Alpakabauern in den Hochländern der Anden halten die Tiere vor allem wegen ihrer ertragreichen und exquisiten Wolle. Dabei wird die bei der jährlichen Schur entstandene Wolle vor allem in der Kleidungsindustrie verwendet. Das Fell der Alpakas bringt nur einen kleinen Ertrag ein, weshalb keine Tiere für ihr Fell geschlachtet werden, sondern ausschließlich die Felle von Alpakas weiterverarbeitet werden, dessen Leben entweder ein natürliches Ende genommen hat oder deren Felle ein Abfallprodukt der Fleischproduktion sind. Ursachen können dabei klimatische Veränderungen, verunreinigtes Wasser, Kämpfe unter den Tieren oder Raubtiere sein. Daher ist es im größten Interesse des Alpakabauern, dass seine Tiere gesund und munter sind.